2019 DealerRater Dealer of the Year: Maserati of Newport Beach Wins!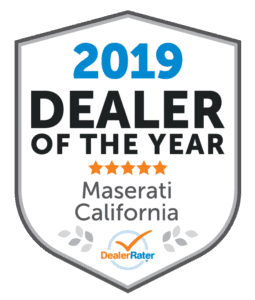 Maserati of Newport Beach received the 2019 Maserati Dealer of the Year award for the state of CA from DealerRater! Thanks to the loyalty of our customers and the diligence of our staff, we beat out every other Maserati dealership in California to get this prestigious accolade.
Our dealership was eligible to get this achievement due to the fact that we had:
A minimum of 25 reviews on DealerRater for the calendar year
An average minimum star rating of 4.0 on DealerRater, with 5.0 as the highest possible rating on the site
At least 1 review on DealerRater per quarter during the calendar year
Not been blacklisted within the calendar year
We also earned the highest PowerScore™ when compared to other Maserati dealers in our home state. The DealerRater PowerScore is calculated based on a Bayesian algorithm that's a combination of average star rating on the site with the total number of reviews written about us during the calendar year.
Between our team's hard work and our customers' devotion to our business, we're grateful to have won the 2019 DealerRater Dealer of the Year award.
A Few of Our DealerRater Reviews
"So happy to work with Christian at Maserati of Newport Beach! I found The entire experience to be easy and enjoyable! They were willing to work to meet my needs and very impressed with their commitment to service over 'selling!' Highly recommend working with Christian and Maserati of Newport Beach."
-StLouisCustomer
"Gabe Vargas was an exceptional salesman. He was very knowledgeable about his inventory and was never pushy. Sometimes the car buying experience can be unpleasant, but Gabe made it very enjoyable. Frankie expedited our paperwork and Gabe managed to have a small seat belt repair done on the spot. Great teamwork!"
-Donna and Jim
"Took in my Maserati GranTurismo for a "brake wear" light on. I recently purchased it so I was concerned as to why the light was on. Dane Brown took the time to check the car out to assure me the pads were not worn and that perhaps it was a sensor. I scheduled an appt a week later and sure enough it was a sensor. I appreciate Dane taking the extra time to check out my car prior to the appt as I needed to take a trip ad he assured me I would be safe to drive. He is always very knowledgeable and great customer service."
-Tracey22
"I brought my 2018 Maserati Levante to the Maserati Service Center in Costa Mesa. Dane Brown personally received my car and was very attentive to my needs to correct a couple of minor problems with my vehicle. He called with updates and Was available to explain what was required and time for pickup of my car. Would highly recommend Dane Brown and the facility."
-Doctor Bob