Maserati of Newport Beach Gets 2020 DealerRater Dealer of the Year Award
Maserati of Newport Beach is pleased to announce that we have been bestowed the 2020 DealerRater Dealer of the Year award! We want to thank the diligence of our staff and the loyalty of our customers, especially those who took the time to write us a review on DealerRater.
DealerRater gave us their Dealer of the Year honor for 2020 because we had the highest-rated PowerScore out of all other Maserati dealerships in our home state of California.
DealerRater calculates their PowerScore using a Bayesian algorithm that considers a dealer's average DealerRater star rating along with the total number of testimonials written on a dealer's DealerRater page in the last calendar year.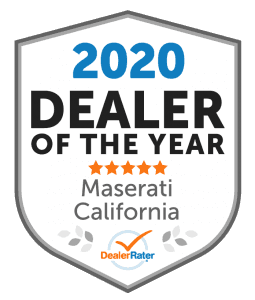 We met the following qualifications to be eligible for the 2020 DealerRater Dealer of the Year award:
Minimum of 25 reviews on DealerRater for the calendar year
Average minimum star rating of 4.0 on DealerRater, with 5.0 as the highest possible rating
At least 1 review on DealerRater per quarter during the calendar year
Must not have been blacklisted within the calendar year
2020 DealerRater Consumer Satisfaction Award
In addition to being named the DealerRater Dealer of the Year award winner, we also received DealerRater's 2020 consumer Satisfaction Award because we were in the top 10% of U.S. franchise dealers based on our PowerScore.
What Our Customers Have to Say on DealerRater
"Joe Lofaro offered great customer service. Returned calls quickly, followed up with information and was overall very professional and courteous. I would highly recommend Maserati service with him."
-L.C.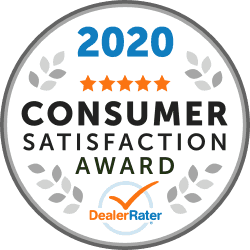 "Joe Lofaro has extended me an excellent service on my Maserati Ghibli. He followed thru during the service. I highly recommend Maserati of Newport Beach."
-My Maserati Ghibli
"I called last minute with a mechanical issue. Dane told me to come right in. No wait, they took the car in and checked it out and at that time realtor needed a replacement part. Immediately got me a loaner car and I was on my way. He kept me updated through the process and I had my car back in no time!"
-DK1

At Maserati of Newport Beach, CA we proudly provide access to the Maserati legacy to drivers in Orange County, the Greater Los Angeles Area, and Parts of San Diego County. In addition to communities surrounding Newport Beach, we regularly help customers from Irvine, Mission Viejo, Torrance, Oceanside, and Carlsbad.