Constructed with the utmost attention to detail
Service Your Vehicle
At our full-service, on-site service center, we have the right people with the right tools and the right parts to get your vehicle back into top shape. Maserati of Newport Beach strives to provide the expertise, genuine parts, and leading-edge customer service you expect, now and throughout the life of your Maserati.
Schedule Service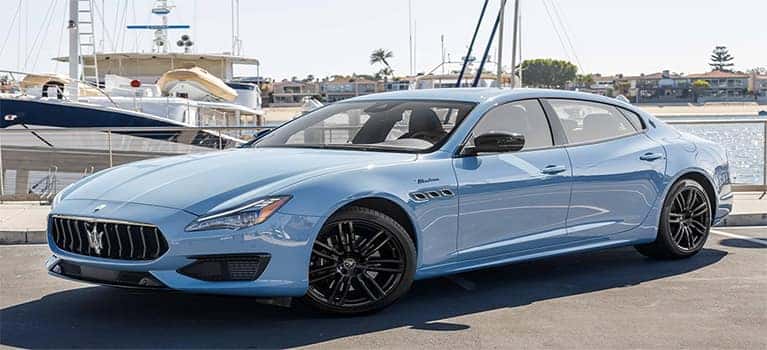 Special Offers
Discover how you can take advantage of this month's special offers on our Maserati models.
Current Offers
What Our Customers Are Saying
Several weeks ago I located a 2020 Quattraporte on the Maserati website. I sent an email to the dealer, Maserati of Newport Beach, and was immediately contacted by John Bohas. I recognize that sales people are in the business to sell cars, but usually you get the overly excited pressure oriented sales techniques. This is not the case with John. He answered all of my questions promptly, his service was exceptional. Every time I sent him a text or email for information he was prompt, even sending me videos of the vehicle I was interested in, as I am out of ...
The dealership and it's sales team were great to work with, and I'm very happy with my recent acquisition!
Easily the Best Car Buying Experience I have ever been apart of! Super efficient process, Phenomenal Staff and Matt the Sales and Leasing Consultant is Top Notch and an Over-deliverer of Excellent Service. Bravo Guys!!!
Having a lot of profit from Mrs Donald Maureen platform was the best thing ever, with a little capital of $1,000 I made a successful withdrawal of $12,500 in 6 working days now I can pay my bills my self and take good care of my family, You are indeed the best account manager, With the way you traded my investment efficiently with no error My God will keep rewarding you. Contact Her for genuinely trading and fast profit payout without any problem. Quickly contact her via: Email: donaldmaureen504@gmail.com WhatsApp: +1 (563) 279-4193
I had a really great experience at Maserati of Newport Beach! They have a great selection of inventory and the Sales/Finance Reps are true professionals. I'm really pleased with the car that I purchased and would definitely highly recommend this location!
I wasn't planning on buying but... once I drove the car and realized this dealership is class, I had to pull the trigger. I had sold cars for years in my younger life so I get a kick out of beating up dealers when I buy a car. That tactic was put to bed once I met Ben. He was easy going and only gave me what I needed and nothing more. He made it easy for me to pull the trigger. Can't say enough about Ben, Newport Maserati, and my Ghibli.
If you're looking for a great car buying experience with super professional and likeable staff go no further than Maserati of Newport Beach. John B and Bryan F were friendly, courteous, knowledgeable and a joy to work with in buying our Levante. They were great about explaining all the car features to my family, and the purchasing process was simple and easy. We drove our new car off the lot thinking, "that's the way it should be!". Thanks for a great service and highly recommended to others.
Matt had the best customer service skills I've seen and I would marry him in a heartbeat if my wife decides to leave me
Matt is an extremely professional and understanding salesman. He listened to my concerns and was able to work with me. I love my new Maserati and am very happy with my purchase. Thank you Matt for helping me make one of the best purchases of my life! :D
Loved Matt, great guy to talk to. He got me a great deal as well!
Welcome to
Maserati of Newport Beach
Formerly known as Maserati of Orange County, Maserati of Newport Beach is one of America's oldest Maserati dealerships. Established since 2002, we are the premier Maserati dealer for customers in Los Angeles, San Diego, and Orange County. Over the past two decades, we have been honored by our faithful clientele and have dedicated ourselves to quality customer service. Our committed, friendly, and expertly-trained staff has many years of experience satisfying our customers' automotive needs. Place a custom order or inquire about financing to start your Maserati journey today.